THE TRAKKERS
Thanks to Keith Richardson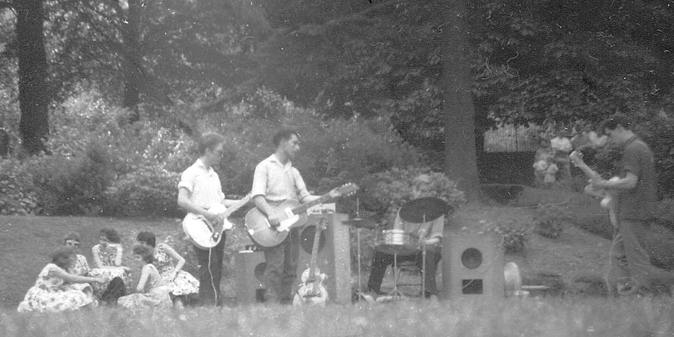 The personnel in the picture are:
l to r Alan Redgrove (bass) Selwyn Read (lead guitar),
Pete Willcocks (drums) and Dick Lawrence(rhythm guitar).
Les Gardner the singer seems to be missing.
Selwyn was not an apprentice, he was a motor mechanic from Malvern
and an absolute virtuoso on the guitar and violin.
Somewhere in the house there is a box of vinyl including the original Trackers
LP, the first recording effort by Dave Harries who went on to fame and fortune
in the recording industry.

Download "Tonights the night" in mp3 format

Download "Turkish Rondo" in mp3 format



Thanks to Peter Willcocks:-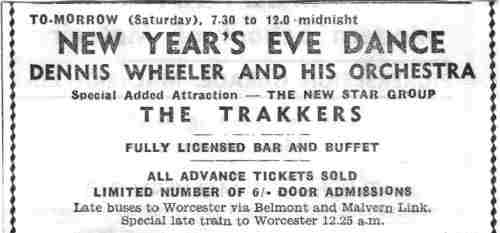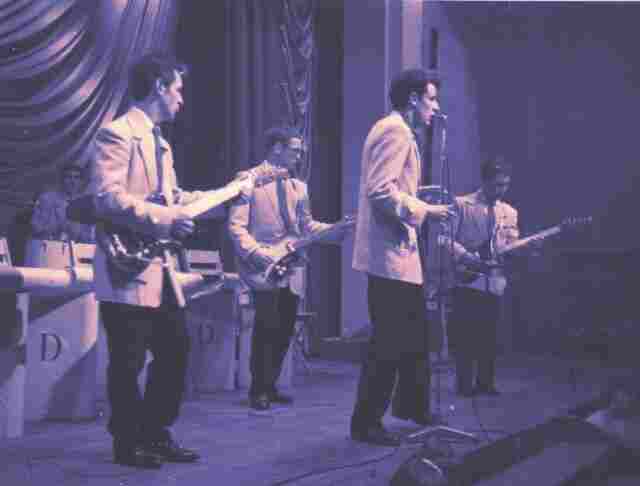 The Trakkers on stage at the Winter Gardens Ballroom.

Thanks to Angie Pulford:

The sound track of a broadcast of a recent radio programme from Venray in Holland. An ex-apprentice Dave Edwards is narrating it in Dutch and English. "Download it here in mp3 format" Trakkers at Winter Gardens,also riverboat shuffle 1962 with gareth Edwards(drums)
Paul Burbidge, Pauline Norman Gill davis(Redgrove0 Selwyn, Alan, Dick and Les.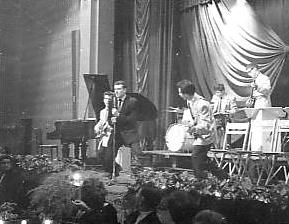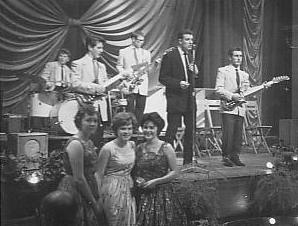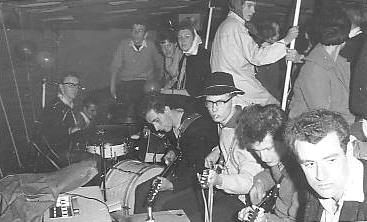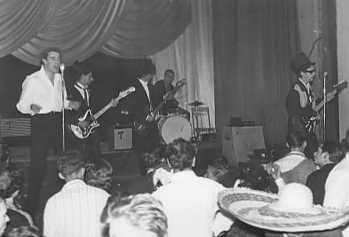 This is the most up-to-date pic of the Trakkers taken in August 2001
at Pete Willcock's 100th birthday!!!
Absentee is bass guitarist Alan Redgrove.
Please note that Dick Lawrence possesses the same sartorial elegance
he had on Krazy Nite 1963 - actually it IS the same hat!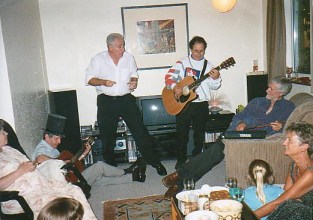 STOP-PRESS Here are some more great pictures from Peter Dearing

Photos or stuff like this will be welcome. Please email it in jpg, gif or similar format.