TAURUS NEWS OCT 2004

Sorry if some of this news is ancient but I need contributors.
Ken

COLLEGE RECORDS
I am now the custodian of the individual records of 985 College Of Electronics Students. They are here for collection if you would like yours. Alternatively you might like to send £1.50 in stamps to my address to cover postage and the special envelope. I am sorry to have to ask for this first but I trusted someone to send the money afterwards and they didn't bother to do so. K.Shail Veeda Glenta Blackmore Park Road Malvern Worcs. WR13 6NN Apprentices records mostly include a folder with end of year reports, practical reports and copies of Certificates of Apprenticeship. At the other end of the spectrum there is simply a Student Record Card showing Examination marks. These relate mainly to students who were not Apprentices. If you click here you will be able to download a list of the names for which I have the records. I have restricted access with a password which you can get from me at ken@shail.co.uk. I will circulate it as well via the College Mail-List email system.
DUFF EMAIL ADDRESSES
Is your email up-to-date on the site? View the duff ones here
If you are on the list it means that emails have failed to be delivered to the address shown. If so could you please email me your new address here
REUNION #3
There was a reunion on September 26th, 2004 held at the Blue Bell Inn, Barnard's Green. Organised by Tony Smith and attended by some 20 ex-apprentices and their wives. Many were from the early part of the 1950's intakes. Perhaps someone would like to organise a bigger get-together next year? Tony Swann [1952 intake]
REUNION #2
2003 Reunion for 1957 Electronics intake.
This took place on the weekend of 28/29 June 2003

"We have just had a good reunion with some ex-apprenti from the '57 intake. A splendid meal at the 'Mellbreak' on Saturday night (preceded by an afternoons energetic 'stroll' to the Beacon to work up an appetite), rounded off by a great pub lunch on the Sunday. The event was organised by Chris Hammond and occasioned by the visit of Bruce and Norah Grime from 'down under'."
Derek (Dai) Rees
See the Picture Gallery for some photos of the event.


AUTOMATIC E-MAIL
The College-Of-Electronics email list is now running. That means that you can circulate emails to all of the old-boys who are on the list merely by sending to the single recipient at the following address: mail@college-of-electronics.org
A server (that is controlled by me and not open to the public) will then relay your email within approximately 5 minutes.
If you have submitted your details to our hall of fame your email address will be on the list of recipients. If you do not want to receive emails this way please send an email to mail@college-of-electronics.org with the word UNSUBSCRIBE as the subject. You may rejoin at any time by sending another email to the same address with the word REJOIN as the subject.

NEWS OF NORTH SITE REDEVELOPMENT
It would appear that the old North Site and the College of Electronic site are to be redeveloped. Housing? Science park? Industrial area? School? Read all about it
This was last year's news but the saga continues: debates all round in the local press.
NEWS FROM THE PAST
The following clip from the Malvern Gazette's "Echoes from the past" August 9 2002 would substantiate John Wilson's correction to the Official History on this web site which in turn infers that Parkview Hostel was opened to apprentices in 1956. Reading the Official History again I would say that the sequence of text probably does not follow the sequence it time. Both are probably correct.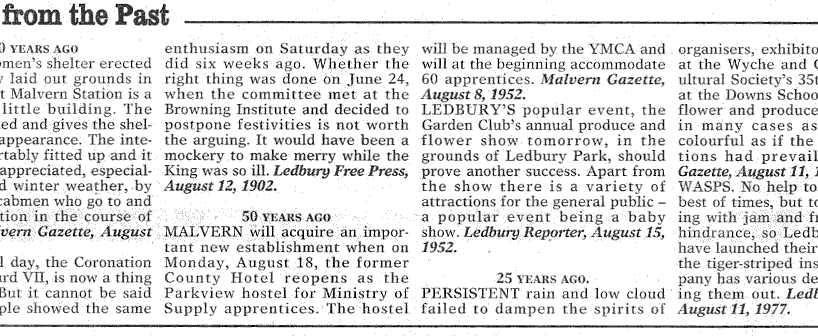 The following note from Alex McLeod suggests an even earlier date. "I have noticed the controversy about the exact date that the County Hotel was opened to apprentices. I never left the Geraldine Staff Club , but by 1951 most had moved. I went there only once to look around and was not impressed!!!"
REUNION 8th MARCH 2002 ---
Was it a success or was it a success?
See the button on the home page for latest details.
Your comments on the new bulletin board please
Which is here.

See the reunion page for contact information for the official College personal folders.

THE COLLEGE SONG
TAURUS ABUNDUM
(To be sung to the tune of Red River Valley)
And only in a drunken state.

Chorus

Our war cry is Taurus Abundum
And whenever that dread sound is heard,
You can bet you will find an Apprentice
With his beer, cigarettes and a bird.

Verses

Now we are a breed called Apprentice,
Staunch, honest, faithful and true,
And today we are hoping to show you
Of the things that '.Apprentices do.

We have come from all parts of the country
To glorify Worcestershire's vales,
From the Highlands of Scotland and Clapham
From Yorkshire and CARDIFF in Wales.

We're a broad minded lot of young people,
With interests too varied for words,
We, like blondes, we like brunettes and redheads,
We like girls, females, fillies and birds



DERA MALVERN is no more.
It has been split in to two separate operations working from the same site.
QinetiQ for independent science and technology research
DSTL an agency of the Ministry of Defence.
The DSTL has a historical account of the The Apprenticeship scheme which you can find by clicking:
ABOUT DSTL -> HERITAGE & HISTORY -> MALVERN -> THE APPRENTICESHIP SCHEME
on this web site
Unfortunately they have now made it impossible for me to give you a direct link.



A steady stream of old boys.
We are now well past the 100 mark in the Hall Of Fame
Slowly but surely the news of this site is spreading.
If you are in contact with any other old boys who haven't subscribed please
taurusy them in to doing so.
Nick Pearse, the editor of the actual Rag Mag edition on our front page, is now with us.
A posting on the Friends Reunited web site brought several new contacts. There is a page
on that web site for the College, but this is the real thing!



Any news articles from you guys ???
Just send them to me here ken@shail.co.uk