College of Electronics Reunions

COVID NEWS 2020
The 1957 intake had a zoom re-union at the end of May as the COVID crisis had put an end to any thoughts of a proper reunion for quite some time.
They are likely to have another one as it gets near to Christmas to pick up on those who missed out this time.

2014 REUNION OF 1947 - 1962 YEARS
Date: Saturday 4th Oct 2014.
Place : Blue Bell Inn,
Everyone appeared to enjoy themselves.
Here is a picture of most of those who attended
Quite a few names are missing so please let me know if you are one of them or know who they are.


2013 REUNION OF 1950 - 1954 YEARS
Date: Saturday 5th October 2013
Time: 7.30 - 8.00 pm
Place : Blue Bell Inn,


2011 MULTI-YEAR GRAND REUNION
Date: 03 September 2011
Place: Malvern Boys College, 27 Woodshears road, Malvern

Was it a success ??? Many gave a resounding "yes!"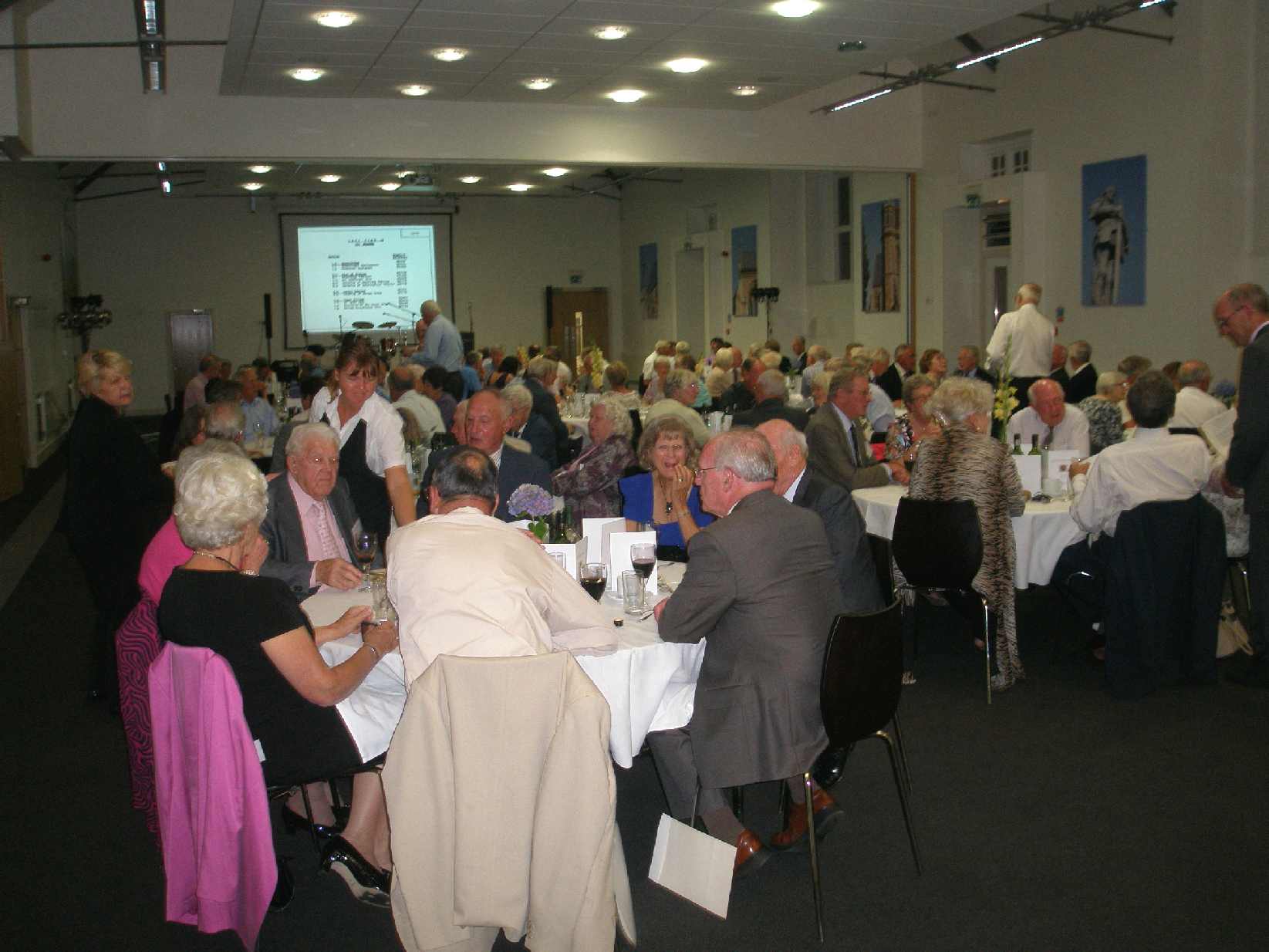 Fringe events: Afternoon displays and get-together, visit to Morgan Motors and Parkview. See the picture gallery for some more shots.

Some pictures of the venue here

If anyone has more pictures, especially of the afternoon displays please let me have them.



OTHER PAST REUNIONS
2007 60th Anniversary Reunion: Malvern: 1-2nd September 2007
Many apprentices of the first five years of entry, 1947-1952, attend a get-together to celebrate the 60th anniversary of the start of the scheme in 1947.
We assembled at the former Geraldine Staff Club, now the Chase High School Sixth-Form Centre, on Saturday afternoon for a social and briefing, to enjoy a drink, some nice snacks and a deal of meeting and greeting!. The Geraldine Staff Club was, of course, the home of many apprentices prior to Parkview opening its doors for us in about 1953.
The organising committee had set up a super display of many period photos and documents including, wonderfully, some of the official government correspondence involved with the founding of the scheme!
The main event was a lunch at The Foley Arms hotel on Sunday, after which the bar stayed open all afternoon to better aid much reminiscing!
Of the 48 ex-apprentices attending, we were pleased to discover how many of the original 1947 intake were there, and even two who had started their apprenticeships in 1945, and had transferred to our scheme!
Altogether 73 sat down for lunch including the ladies.
I later visited the former College location at North Site, to find that everything on North Site had very recently been erased! There was just a clean brownfield building site, ready for the building of the 400-plus homes planned for the site!
I also visited the Winter Gardens to see if the Ballroom, scene of much apprentice activity at the Saturday night dances in the 1950s, still existed and was given a guided tour by the young manager. It is all still there but now set out as an additional theatre, with the rear half of the dance area now covered by a large tier of seats.
Jean and I greatly enjoyed the reunion and would thank the committee, John Barker, Ken Hayter and PH Davies for the efficient way in which they managed it.
Colin Davis 1952-57
See the Picture Gallery

2006 All years Gala Reunion
This took place on 20/21st October 2006
See the Picture Gallery

2005 Reunion of 1965 Intake
This Took Place on Saturday the 24th Sept 2005
See the Picture Gallery.

2003 Reunion for 1957 Electronics intake.
This took place on the weekend of 28/29 June 2003

"We have just had a good reunion with some ex-apprenti from the '57 intake. A splendid meal at the 'Mellbreak' on Saturday night (preceded by an afternoons energetic 'stroll' to the Beacon to work up an appetite), rounded off by a great pub lunch on the Sunday. The event was organised by Chris Hammond and occasioned by the visit of Bruce and Norah Grime from 'down under'." Derek (Dai) Rees
See the Picture Gallery for some photos of the event.

See the Picture Gallery for some photos of the event.


Date: Friday 8th March 2002

Result: Success ?



Information arising:

We were all delighted, amazed and (ashamed) at receiving our
official College files which had been rescued from incineration
by John Barker.
I understand that the "Ws" had already been destroyed.
I also understand that a large number are still with Colin Davis
(no longer - Ken Shail has them)
What a find !

Some photos from the event

Anyone requiring prints of photos taken by the official photographer ,
Bob Sweet can contact him at the following email.
redaven@btinternet.com
Or phone on: 01905 778309
Or Mobile: 07770 783736
He has eight group photos.
Price for 7in x 5 in colour print will be £4 each,
to include post and packing.
He can also provide images on CD disc, with all eight groups included,
in jpeg format sized at 7 x 5 for £ 25 inclusive of p&p.
Cash with order, please. Cheques payable to "Bob Sweet".
Enlargements up to A3 on request.